BIRKEDAL - Rabylille Beach, Isle of Moen, Denmark
BIRKEDAL - Rabylille Beach, Isle of Moen, Denmark
3 bedrooms
3 beds (3 queen)
2 bathrooms
$130+/night
7 night minimum stay
DESCRIPTION
"The architecture of house birkedal is as poetic as its name. Inspired by children's fantasy worlds, the cottage on the Danish island of Moen consists exclusively of circular spaces. The arrangement of the cylinders on a mound of earth emphasizes the autonomy of the individual elements and makes the ensemble look smaller. The elevated position offers a wide view of the surrounding meadows and forests.
The facade paneled with natural thin pine logs will develop a gray patina over time and is contrasted by window reveals of rusted Corten steel. Inside, the walls and floors are kept in nuanced shades of white; different materials creating diverse textures and sensory contrasts. The white walls, clad in rough sawn strips and planks, highlight the carefully planned views from the frameless windows. The floors are formed of mosaics of bright beach pebbles, while the oiled oak furniture and fittings, and brass lamps and fixtures, bring warmth to the space.
birkedal is round-shaped. However, this is not the only reason why the house is not easy to "decode" at first sight. The architect has invented, planned and built it single-handedly over a period of 5 years. Each centimeter of the building is the materialization of his thoughts and concepts; each element was put in place by him. The house is complex, unconventional and challenging. It invites the viewer to sharpen his senses and to experience it room by room.
Nine interlinked cylindrical structures open out onto the landscape through variously sized windows, framing the scenery and entering into dialogue with the outside world. This transforms the house's openings into a stage for a natural drama to be experienced by a contemplative audience. The protagonists – the clouds, wildlife, trees and light – engage in an ongoing peaceful but powerful interplay with the building and its occupants.
birkedal is a vessel that draws in atmosphere, colors and shapes, capturing its surroundings like a telescope or a camera. As cosy as a snail's shell or a favorite tailor-made garment, it experiments with material properties and surface textures, with light and shade, with space and contents. And the interweaving of homely security and far-reaching views is masterfully achieved." Urbaubsarchitekur.de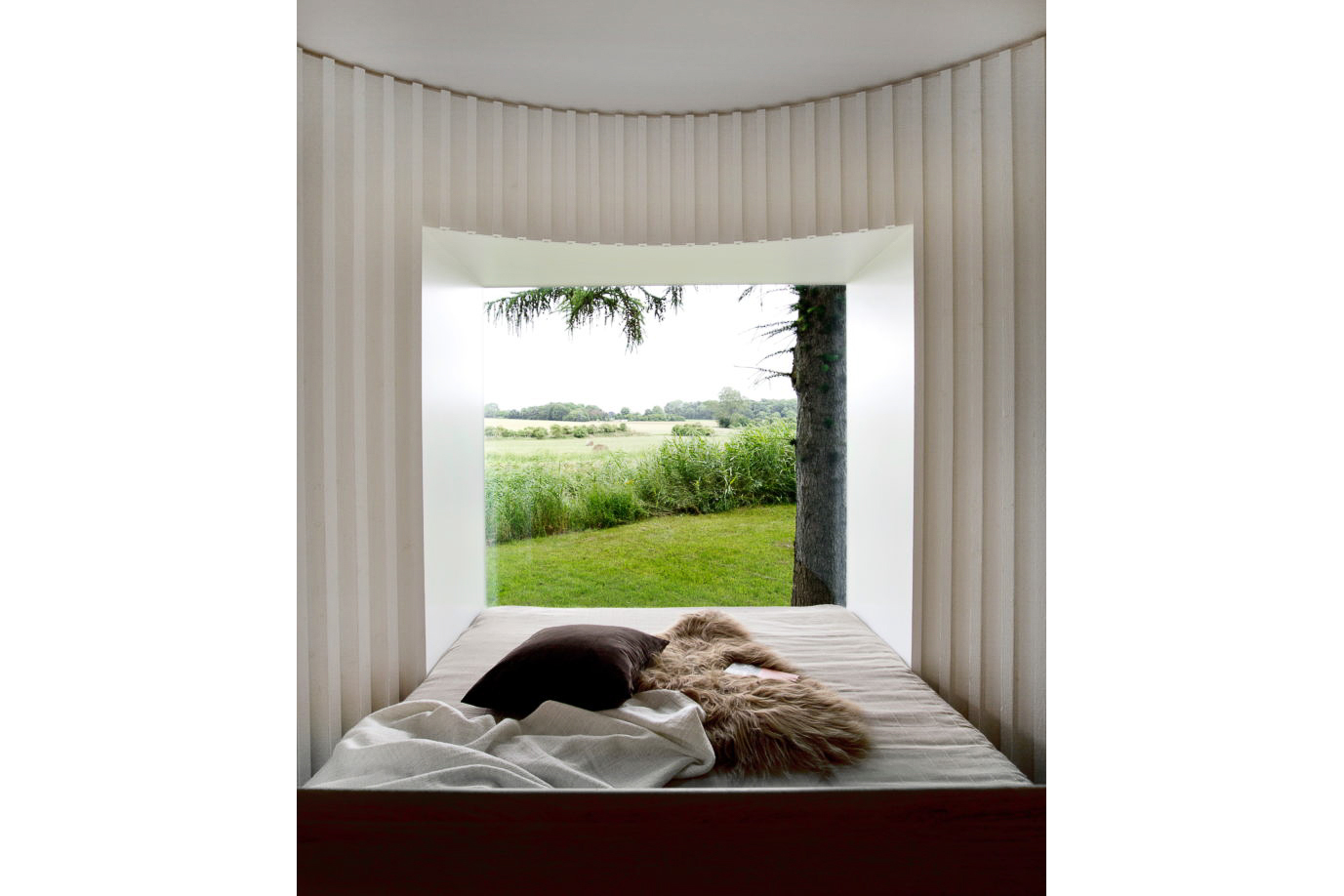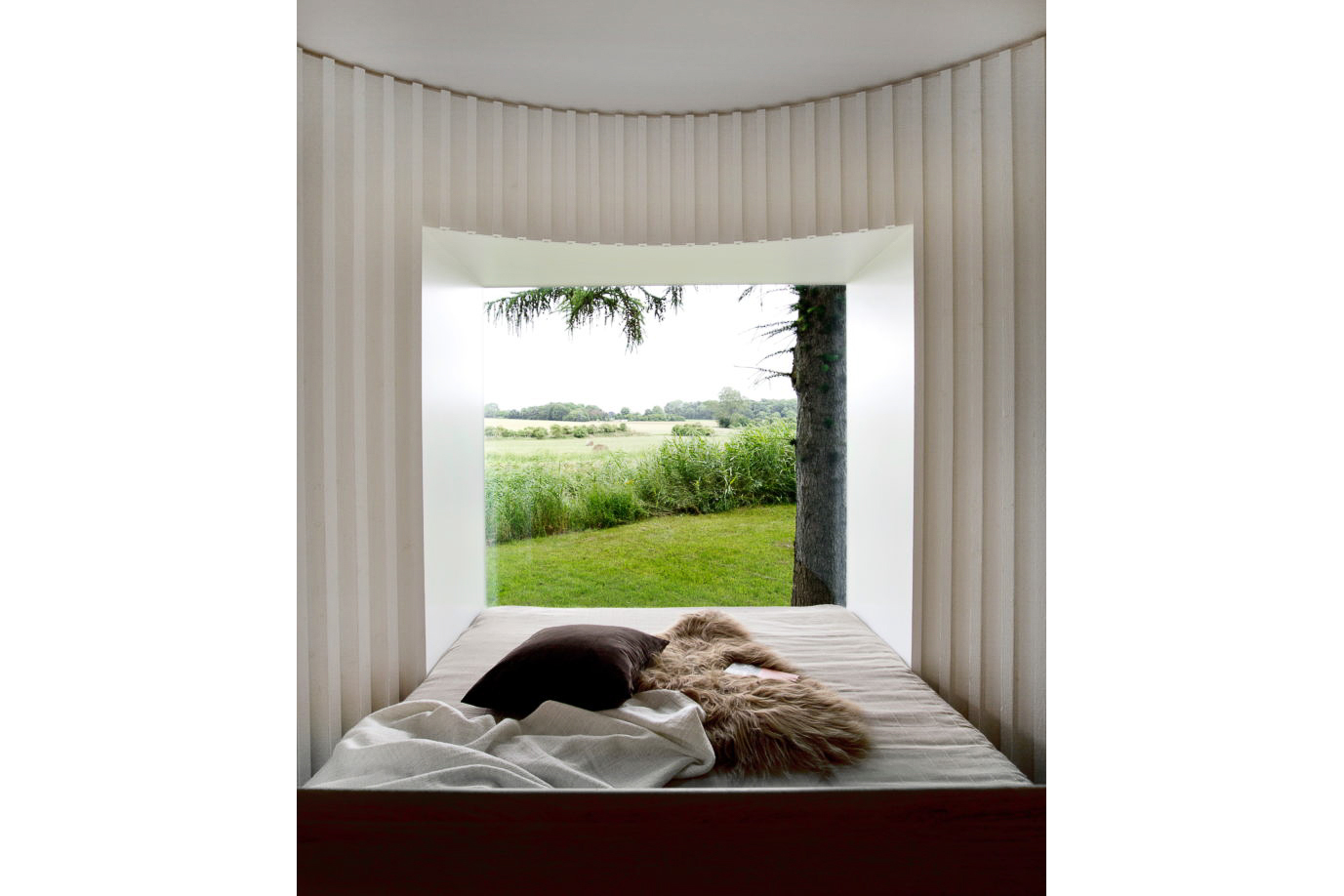 Maximum Guests: 6
Bedrooms: 3
Beds: 3 (3 queen)
Bathrooms: 2
Minimum Stay: 7 nights
Daily Price: $130+
Weekly Price: $910+
Cleaning Fee: $105 (one time)
Check In: 3:00 p.m.
Check Out: 10:00 a.m.
Basics
Heating
Shower
Bathtub
Dishwasher
Washer
Essentials
Amenities
Water Front
Grill
Indoor Fireplace
Sauna
Internet
TV
Other
Pets Allowed
First Aid Kit
Carbon Monoxide Detector
Smoke Detector
Fire Extinguisher
All Year
Hiking
Wildlife Watching
Fishing
Brewery
Fine Dining
Spring/Summer
Birding
Biking
Golfing
Swimming
Snorkeling/Scuba Diving
Canoeing
Sailing
Kayaking
Horseback Riding
Fall/Winter
Autumn Color Change
Apple Picking
Tobogganing