BLACK + BRIGHT - Rabylille Beach, Isle of Moen, Denmark
BLACK + BRIGHT - Rabylille Beach, Isle of Moen, Denmark
970 square feet
3+ bedrooms
5 beds (1 king, 2 queen, 2 single)
2 bathrooms
$130+/night
7 night minimum stay
DESCRIPTION
Designed, built and owned by architect Jan Henrik Jansen, the overall idea was to create a simple house with exquisite details. The house has no gutters or downspouts and the blackened wood facade carries on to become the roof. Interior walls and ceilings have a smooth finish made with local beach sand to create a golden color scheme on the surface. Reclaimed sandstone tiles are used at the house entrance and in both bathrooms.
black + bright has no windows in the traditional sense, but rather large floor-to-ceiling sliding glass openings in the facade that invite you to connect with the landscape via in the unobstructed view over the meadows and pastures - even all the way to the sea on a clear day. The partially covered, wrap-around terrace is twice as large as the house itself, ensuring that just as much time is spent outdoors as indoors. Be sure to take a moment in the hammock.
Fixtures and furnishings are superb. In the dining room, take note of the table and bench in solid soaped oak, Louis Poulsen Toldbod lamp and tea light holders from ceramic artist Anke Schulz. The kitchen features Bulthaup furniture and light fixtures as well as Artemide Tolomeo task lamps. Kitchen essentials and appliances are hidden behind frosted aluminum doors from Bulthaup. The master bath sliding glass doors have hidden frames and handles, so although the door resembles one large pane of glass, it can be pushed aside to access the terrace. Enjoy the felt covered walls in the bedrooms.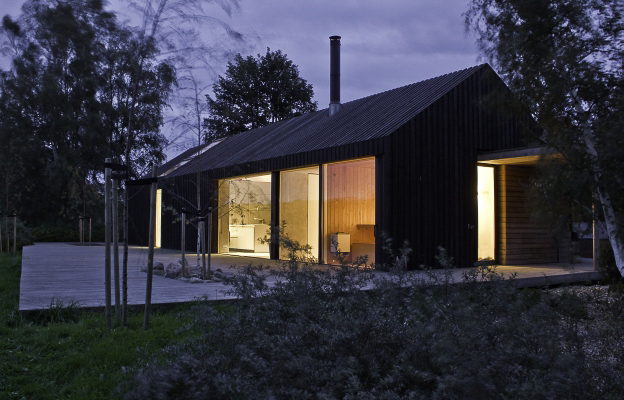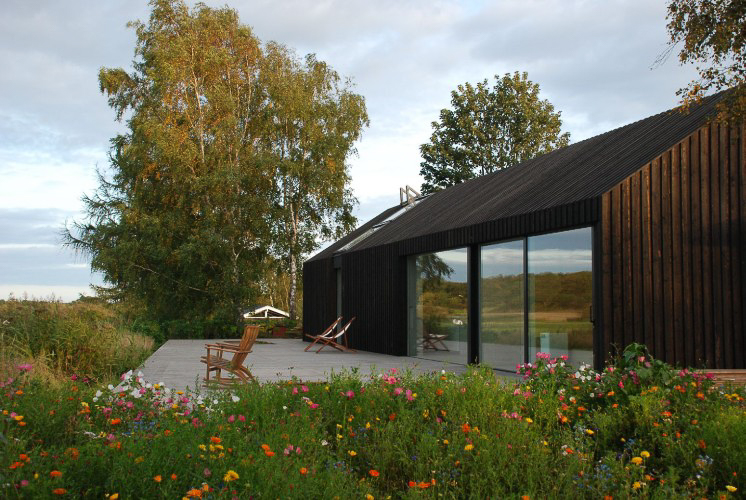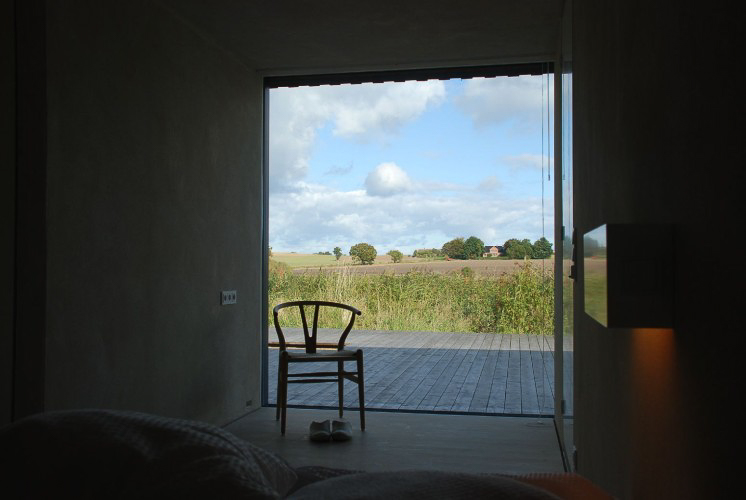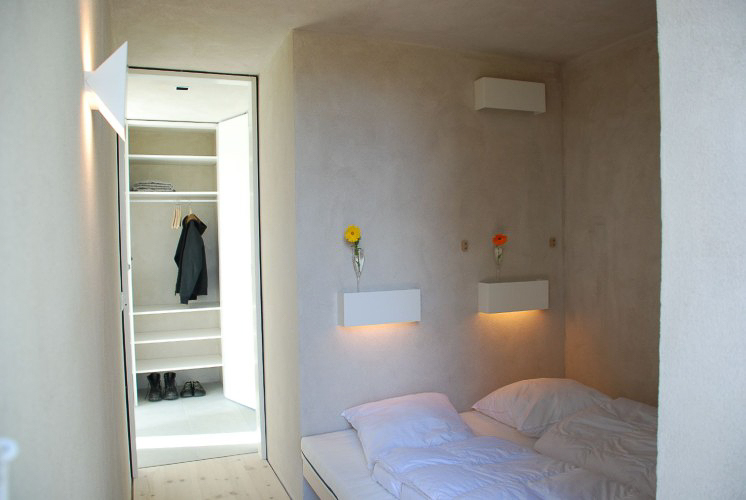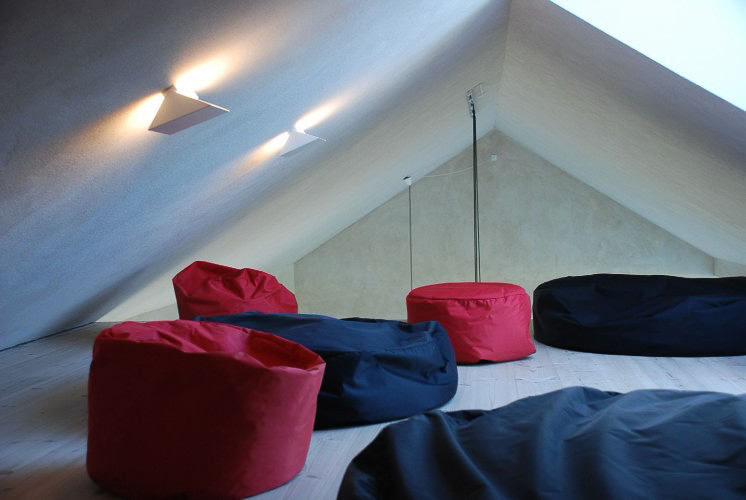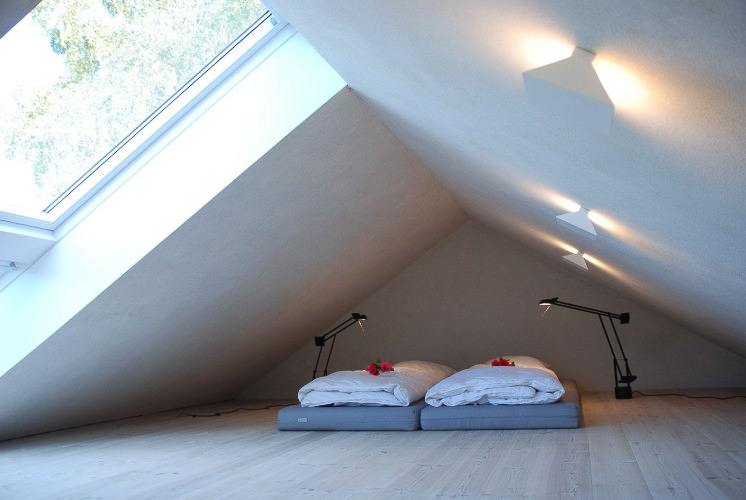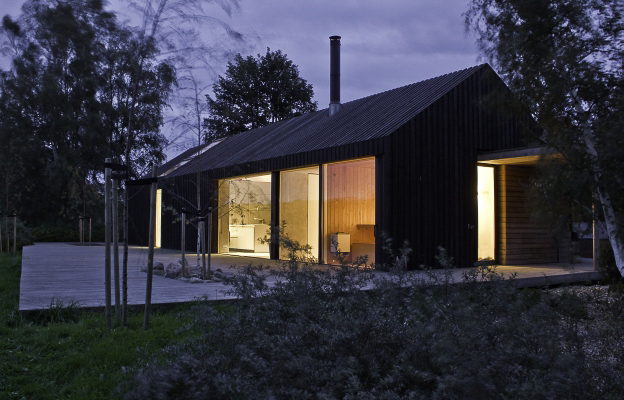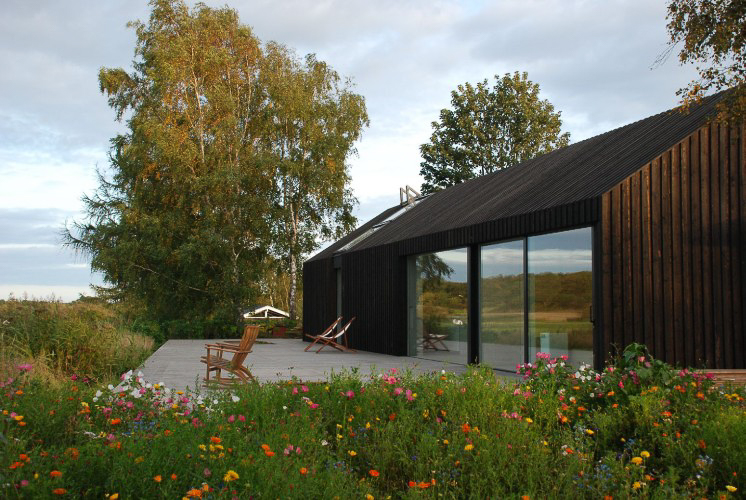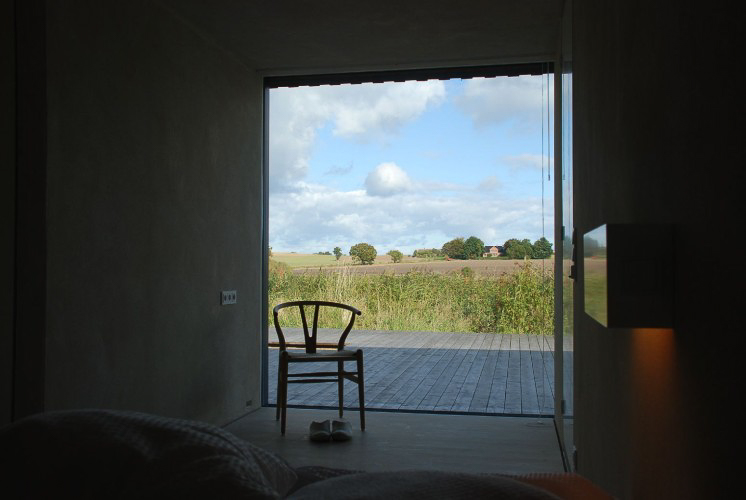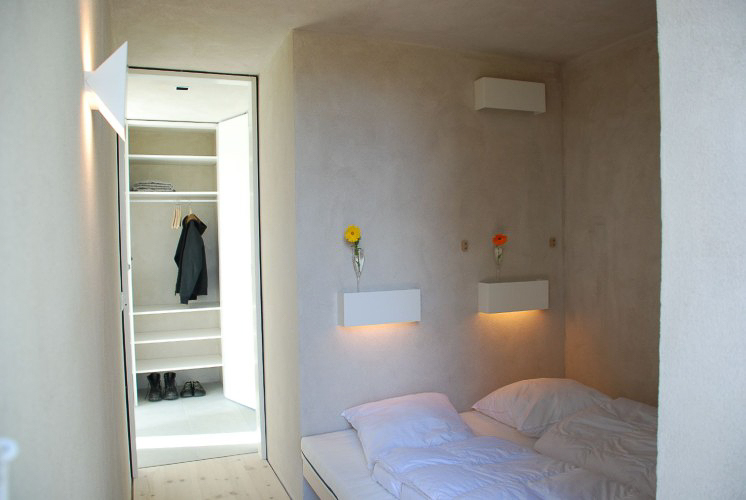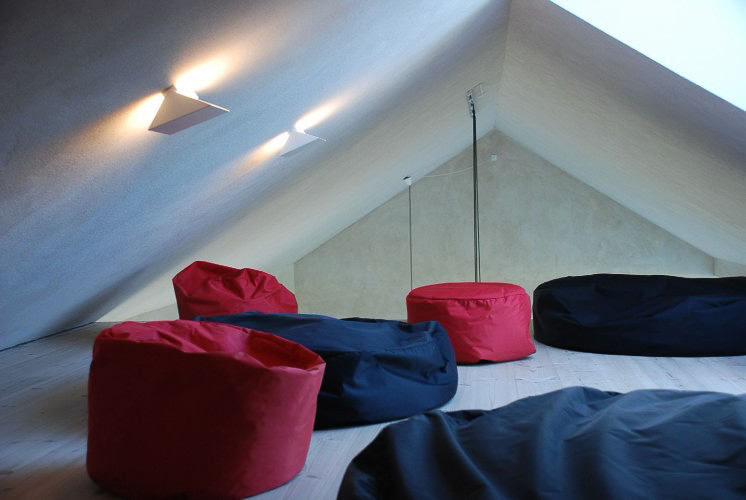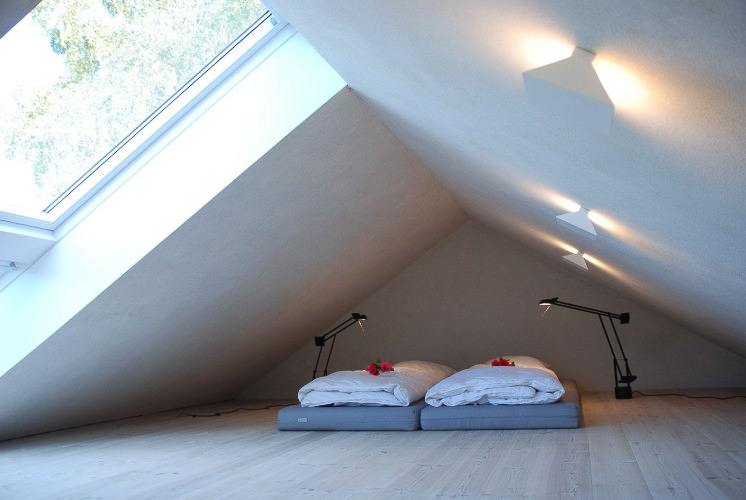 Size: 970 s.f.
Maximum Guests: 8
Bedrooms: 3 + loft
Beds: 5 (1 king, 2 queen, 2 single)
Bathrooms: 2
Minimum Stay: 7 nights
Daily Price: $130+
Weekly Price: $910+
Cleaning Fee: $105 (one time)
Check In: 3:00 p.m.
Check Out: 10:00 a.m.
Basics
Heating
Shower
Bathtub
Dishwasher
Washer
Essentials
Amenities
Water Front
Grill
Indoor Fireplace
Sauna
Internet
TV
Other
Pets Allowed
First Aid Kit
Carbon Monoxide Detector
Smoke Detector
Fire Extinguisher
All Year
Hiking
Wildlife Watching
Fishing
Brewery
Fine Dining
Spring/Summer
Birding
Biking
Golfing
Swimming
Snorkeling/Scuba Diving
Canoeing
Sailing
Kayaking
Horseback Riding
Fall/Winter
Autumn Color Change
Apple Picking
Tobogganing
Vordingborg Region Award for Best Architecture, 2010