MACKEY PENTHOUSE - Los Angeles, CA, USA
MACKEY PENTHOUSE - Los Angeles, CA, USA
6475 square feet
2 bedroom
2 beds (2 full)
1 bathroom
$220+/night
2 night minimum stay
DESCRIPTION
"The Mackey Apartments are the home to the MAK Center's residency program designed for visiting artists, architects, and students of architecture.
Located on a flat lot in a residential neighborhood, the originally four-unit (since converted to five) apartment building is one of a series of residential projects built in the 1930s. Unlike international-style architects, Schindler seldom designed identical apartment units; his apartments are as complex, individual, and innovative as his houses. The Mackey possesses typical Schindler characteristics: compact apartment layout, exceptional incorporation of natural light, built-in furniture, variable ceiling heights, and private outdoor gardens or mini-balconies.
The building was purchased by the Republic of Austria in 1995 and made available for the activities of the MAK Center. Restoration work began in 1995 by the Central Office of Architecture, and continued with architects Space International in 2001 and 2004, thanks to funding by the Austrian Federal Ministry of Economic Affairs and Labor. In all phases of renovation, the objective was to recreate the room layout, complex lighting, and the use of materials for surfaces and color schemes in keeping with the architect's original intentions. Ultimately, the renovation has created a refreshing building that testifies to Schindler's love of open spaces, airiness, and versatility.
The last phase of renovation and construction took place in 2009/10, thanks to funding from the Buildings Program of the Austrian Federal Ministry of Economic Affairs and Labor. The Garage Top, designed by Space International, resembles a black box cantilevered above the five renovated ground floor garages at the rear of the lot. Clad in Wetsuit, a dark industrial material used for waterproofing, and fronted by a wall of translucent, sliding window panels, the new addition stands distinct from the original Mackey Apartments. The interior provides a single uninterrupted space flooded with natural light. Designed for flexibility, the Garage Top is well suited for a variety of MAK Center programming, including: performances, seminars, the exhibition series Garage Exchange Vienna – Los Angeles, and MAK Center Residents' activities." MAK Center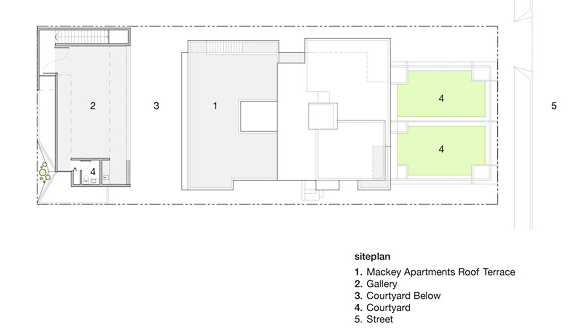 Size: 6475 s.f. (entire site)
Maximum Guests: 2
Bedrooms: 2
Beds: 2 (2 full)
Bathrooms: 1
Minimum Stay: 2 nights
Daily Price: $220
Cleaning Fee: $120 (one time)
Check In: TBD
Check Out: TBD
Basics
Heating
Bathtub
Dishwasher
Washer
Dryer
Essentials
Amenities
Wireless Internet
TV
Other
Carbon Monoxide Detector
Smoke Detector
Fire Extinguisher
All Year
Hiking
Fishing
Brewery
Fine Dining
Spring/Summer
Biking
Mountain Biking
Golfing
Swimming
Surfing
Sailing
Kayaking