PRAA SANDS BEACH HOUSE - Praa Sands, Cornwall, UK
PRAA SANDS BEACH HOUSE - Praa Sands, Cornwall, UK
2,800 square feet
4 bedrooms + studio
8 beds (3 super king, 1 king, 3 single)
5 bathrooms
$950+/night
3 night minimum stay
DESCRIPTION
"Set back and hidden away on the edge of a Cornish cliff, Praa Sands Beach House sits quietly and unobtrusively; a homage to its beautiful natural surroundings. Designed and built by Alex Michaelis, one of London's most prestigious architects, the house is a beloved holiday home, drawing the family to Praa Sands from London at every opportunity.
With a desire to create a space that eschews the traditional stone construction that is vernacular to the area, Praa Sands Beach House is built with the environment in mind. A ground source heat pump and solar panels set into the wild meadow grass roof show the architect's concern and consideration for wider environmental issues, harnessing energy from the idyllic location and affirming the building's relationship with the landscape.
Externally, Praa Sands creates an elegant sculptural statement, but it is when you enter that the true beauty of the design is realized. The shell-like helix of the stairs open up to a clear oculus, through which the moon shines, lighting and casting shadows on the while plastered walls. Every opening has been carefully positioned to allow light to permeate seamlessly between the spaces, creating an open landscape that echoes the shifting qualities of the environment throughout the day, and in different seasons.
At its heart, Praa Sands Beach House is built around the sea, the surfer and its cliff side location. Every angle, curve and opening are designed with a deep love for the sea. Outside a large copper piped shower is the first stop for those returning from the water, and a warm ground floor wet room greets those fresh from the bracing waves. Large expanses of glazing ope up the single ground floor living space, giving way to the rugged Southern Cornish coast and brining the landscape into the house. To the back, huge cruciform windows allow light to wash through." Michaelis Boyd Associates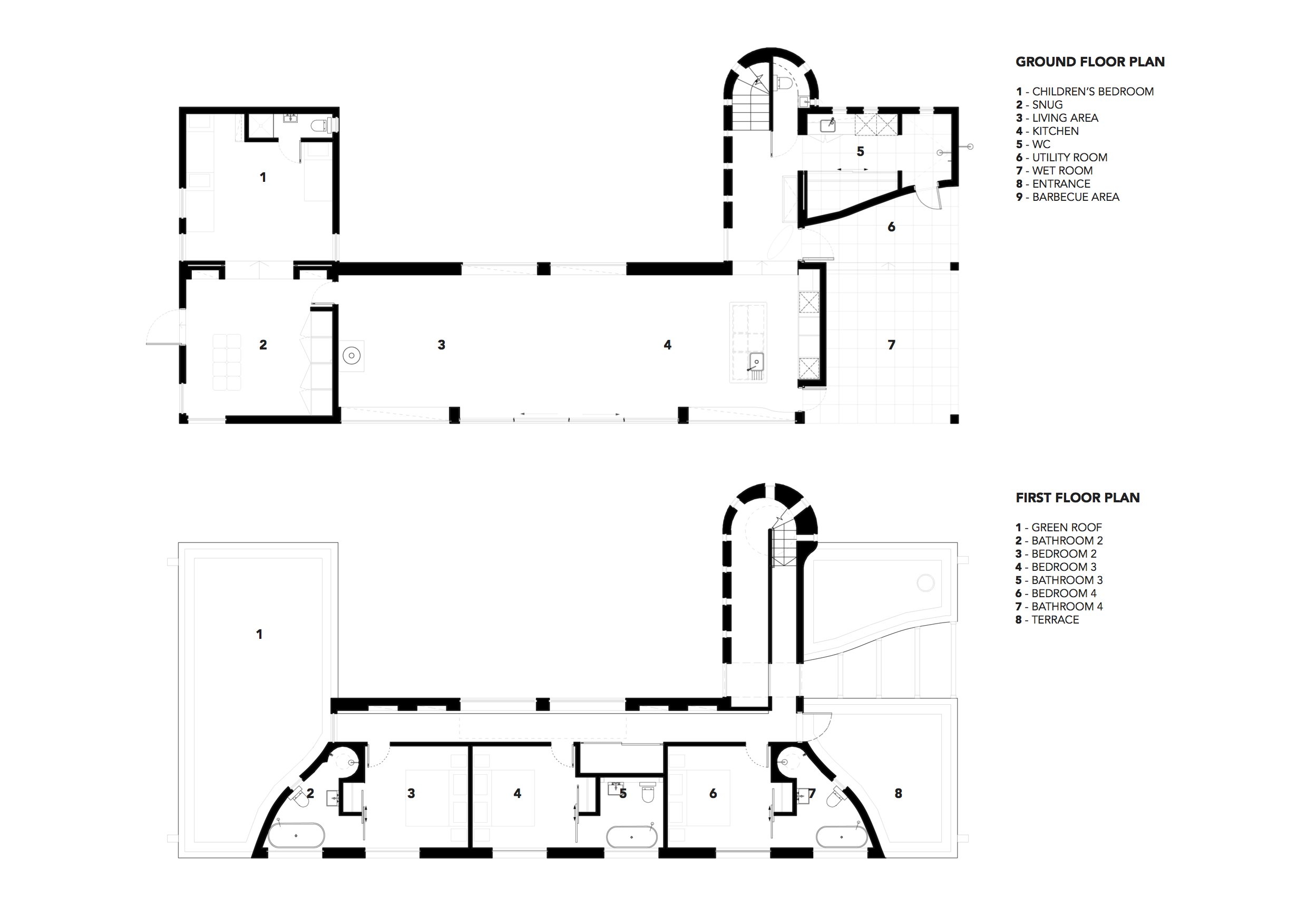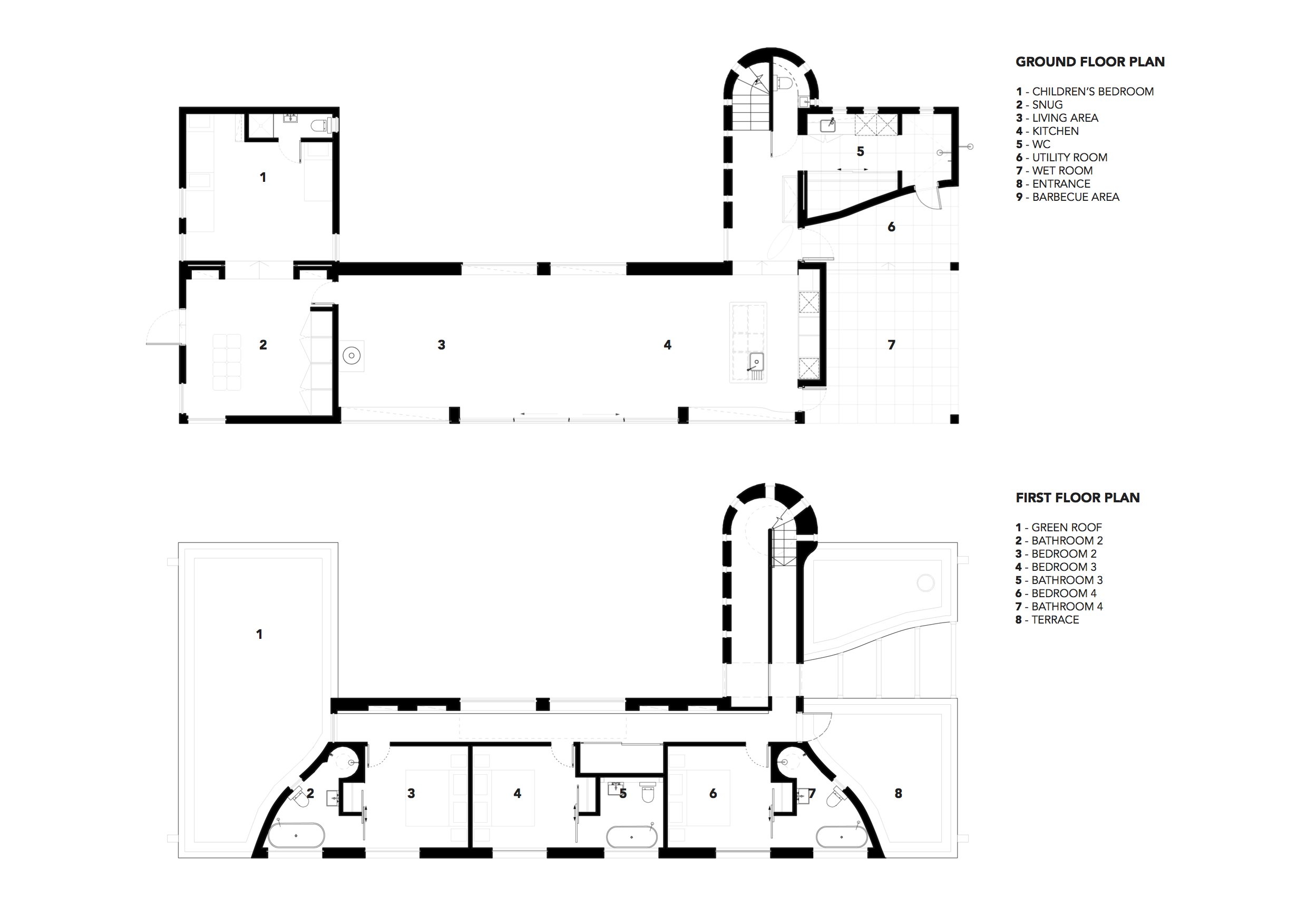 Size: 2,800 s.f.
Maximum Guests: 11
Bedrooms: 4+
Beds: 8 (3 super king, 1 king, 3 single)
Bathrooms: 5
Minimum Stay: 3 nights
Daily Price: $950+
Weekly Price: 15% discount
Check In: 4:00 p.m.
Check Out: 10:00 a.m.
Basics
Heating
Shower
Bathtub
Dishwasher
Washer
Dryer
Essentials
Amenities
Water Front
Hot Tub
Indoor Fireplace
Wireless Internet
TV
DVD Player
X Box
Hammock
Trampoline
Ping Pong Table
Other
First Aid Kit
Carbon Monoxide Detector
Smoke Detector
Fire Extinguisher
All Year
Hiking
Wildlife Watching
Fishing
Brewery
Fine Dining
Spring/Summer
Birding
Rock Climbing
Biking
Golfing
Swimming
Surfing
Fall/Winter
Autumn Color Change
Storm Watching
Harvest Festivals
Christmas Fairs
The Guardian's World's Top 100 Beach Houses, 2014
ID&A Beach House Award Shortlist, 2014