TY HEDFAN - Pontfaen, Wales, UK
TY HEDFAN - Pontfaen, Wales, UK
2,400 square feet
4 bedrooms
5 beds (2 king, 1 double, 1 single)
4 bathrooms
$400+/night
3 night minimum stay
DESCRIPTION
"Ty Hedfan (the hovering house) is a stunning modern design from award winning architects Featherstone Young. It is perched above the River Ysgir in Wales, five miles from Brecon and the beautiful Brecon Beacons National Park.
Designed as a family home and without compromise, to be a totally unique, utterly modern and luxurious hideaway deep in the Welsh hills. Ty Hedfan can sleep up to 6 people in three double bedrooms and 1 single (3 en-suite). You can enjoy the large living room floating over the river, lounge on one of the two riverside external decks, entertain in the large kitchen and dining area or just relax next to a roaring log fire.
When you venture out, the house is surrounded by some of the finest hill country in the UK, with the best walking, mountain biking, fishing, canoeing or climbing around . You'll find the house is full of maps with walking and biking routes marked, as well as other suggested activities.
Brecon and Hay-on-Wye are close by so the Hay Literary Festival, Brecon Jazz and the Green Man Festivals are on the doorstep. The area also has some good restaurants and pubs and excellent local produce is easy to find.
Sustainable principles were of fundamental importance when we designed the layout of the house which also led to the inclusion of solar panels, green roofs, heat pumps and water recycling." Sarah Featherstone and Jeremy Young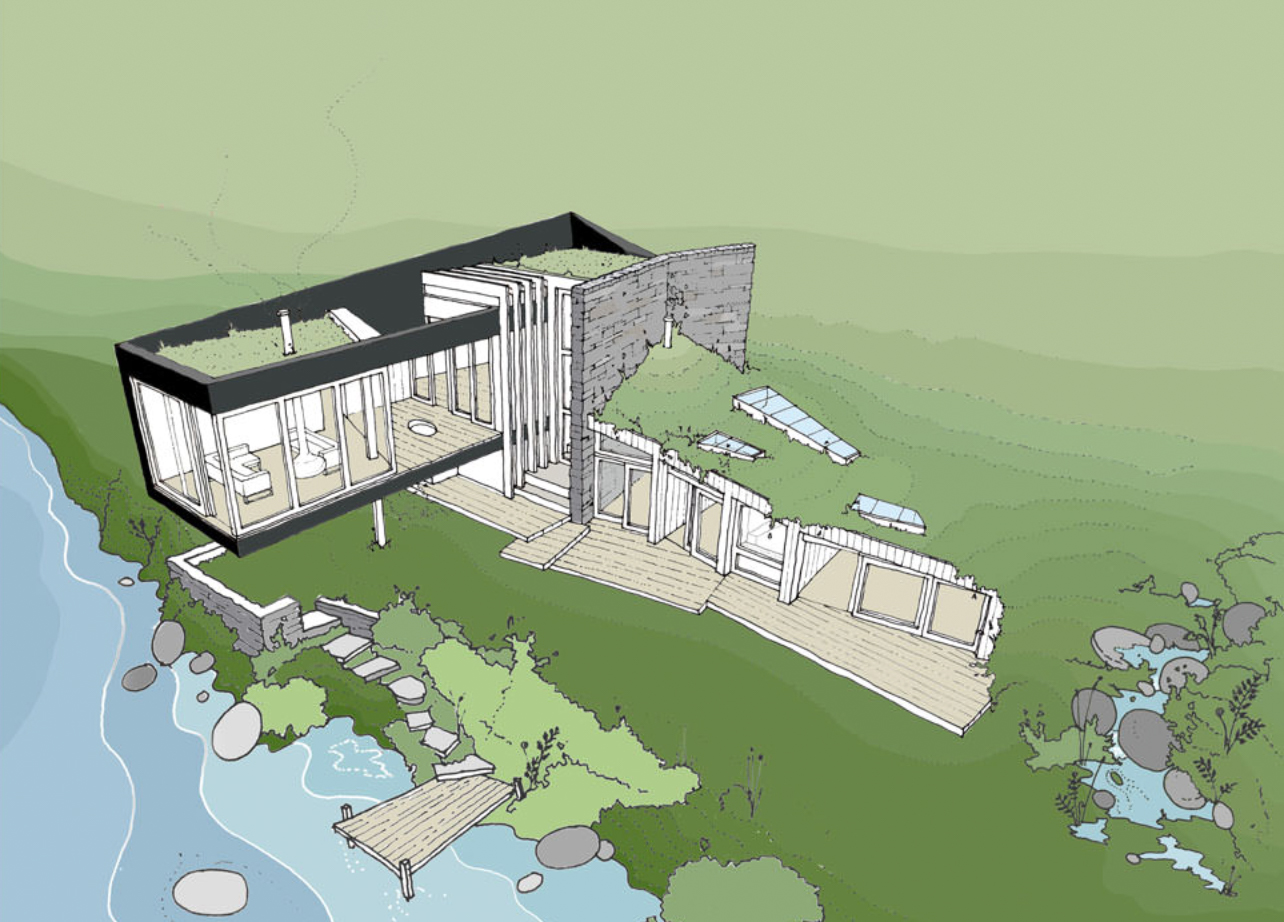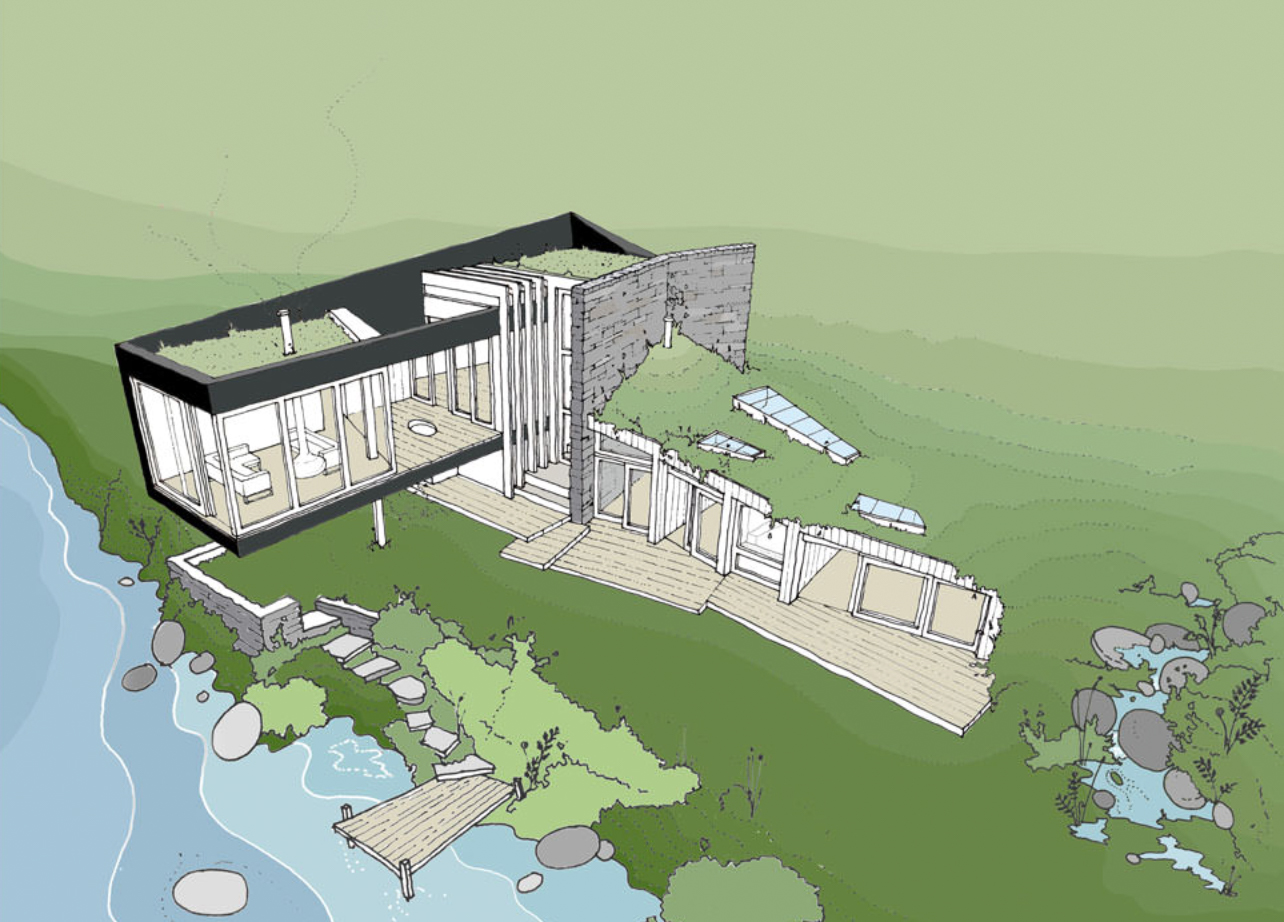 Size: 2,400 s.f.
Maximum Guests: 6
Bedrooms: 4
Beds: 5 (2 king, 1 double, 1 single)
Bathrooms: 4
Minimum Stay: 3 nights
Daily Price: $400+
Weekly Price: $1,500+
Check In: 6:00 p.m.
Check Out: 10:00 a.m.
Basics
Heating
Shower
Bathtub
Dishwasher
Washer
Essentials
Amenities
Water Front
Grill
Indoor Fireplace
TV
DVD Player
Other
Smoke Detector
Fire Extinguisher
All Year
Hiking
Wildlife Watching
Fishing
Spring/Summer
Birding
Rock Climbing
Mountain Biking
Golfing
Swimming
Surfing
Canoeing
Kayaking
Rafting
Horseback Riding
Fall/Winter
Autumn Color Change
Snowshoeing
Cross Country Skiing
RICS National Award for Best Innovative Building, 2012
RIBA Award for Outstanding Architecture, 2011
RIBA Award for Best Innovative Building, 2011
RIBA Manser Medal Finalist, 2011
RIBA Stephen Lawrence Award Finalist, 2011
Eisteddfod Gold Medal for Architecture Finalist, 2011