SETH PETERSON COTTAGE - Mirror Lake, WI, USA
SETH PETERSON COTTAGE - Mirror Lake, WI, USA
880 square feet
1 bedroom
2 beds (1 double, 1 fold out couch)
1 bathroom
$250-300/night
2 night minimum stay
DESCRIPTION
"This tiny house, with just 880 square feet of living space, brings together many of the qualities that mark Frank Lloyd Wright as one of the world's foremost architects. The Cottage is balanced just on the edge of the steep wooded hill that plunges down to Mirror Lake. Framed by strong terrace buttresses of local Wisconsin sandstone, and with walls of the same stone, the building possesses a monumentality that is surprising to find in such a small structure The massive chimney and walls of the building, rising two stories over the bathroom and kitchen, are strong vertical elements that anchor and offset the energetic wedge of the roof. The great flying roof, seeming to hang in space without support, frames the principal views to the west and south. The flagstones used to pave the outside terrace continue inside the building as the cottage floor, manifesting Wright's philosophy of making little distinction between the outside and inside worlds in which we live.
Inside the cottage, the soaring roof is offset by the lower stonewalled enclosure of the east side, a cozy retreat centered on the fireplace. In the bedroom a ribbon of narrow windows just beneath the roof provides a wash of light offering shelter and privacy.
Only one element of applied decoration marks this elegant and simple cottage: a frieze of stylized pine trees cut from plywood and set into a narrow row of windows above the main living room windows.
The Cottage was purchased by the State of Wisconsin in 1966 as an addition to the recently created Mirror Lake State Park. No appropriate use could be found for the Cottage so it was boarded up for safety and preservation reasons. It remained that way until 1989 when the Seth Peterson Cottage Conservancy was formed by local residents and Frank Lloyd Wright enthusiasts. The Conservancy signed a 15-year renewable lease with the Department of Natural Resources to rehabilitate and operate the Cottage." Seth Peterson Cottage Conservancy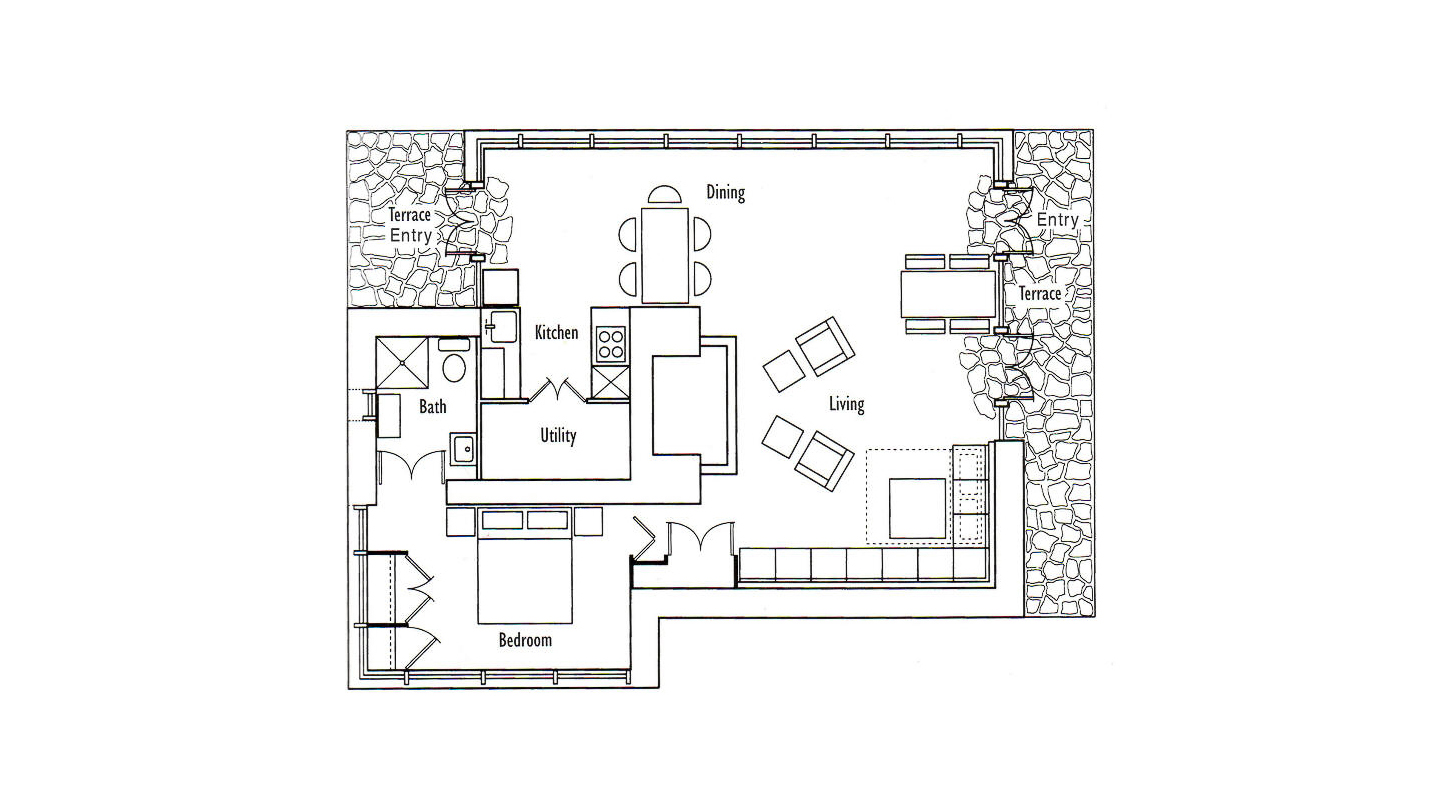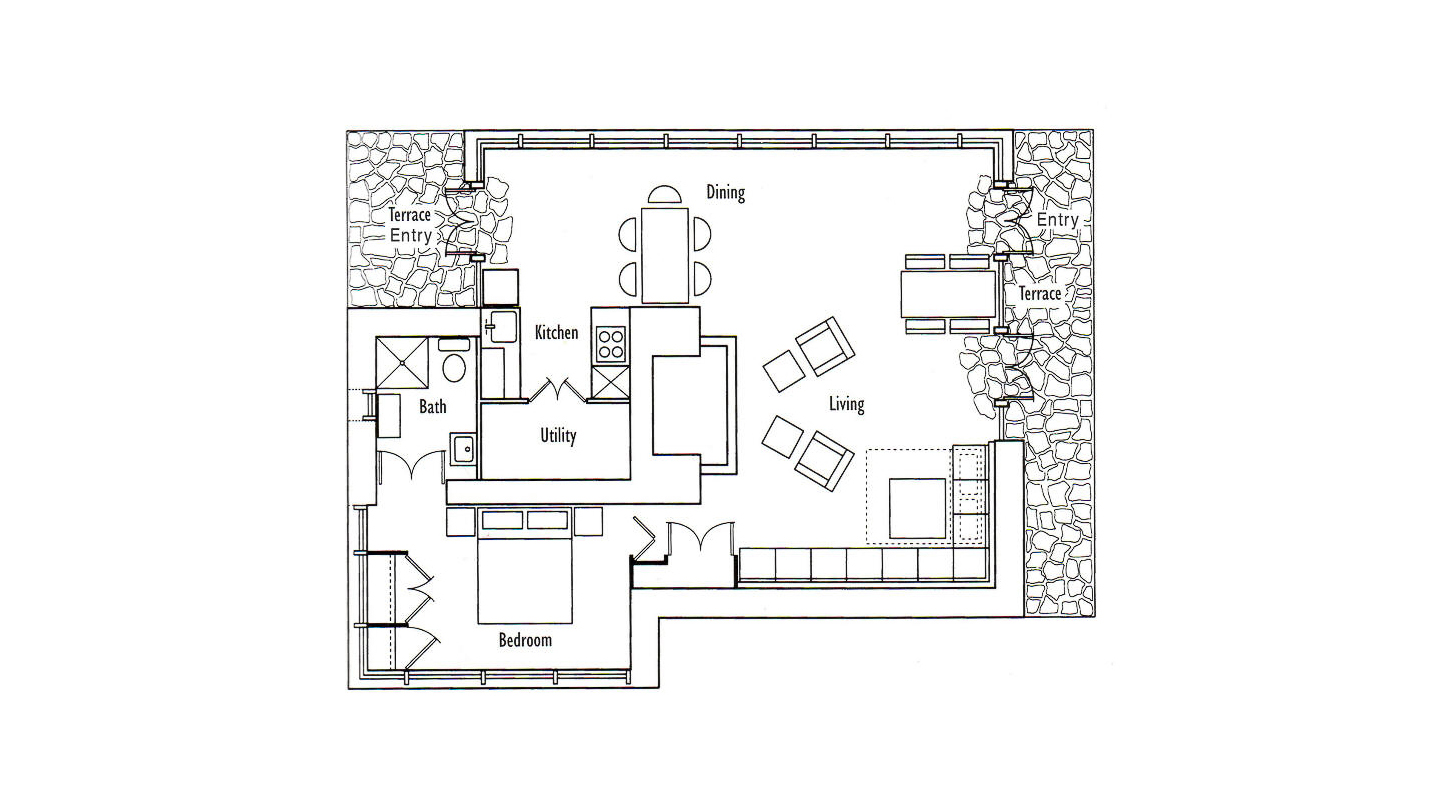 Size: 880 s.f.
Maximum Guests: 4
Bedrooms: 1
Beds: 2 (1 double, 1 foldout couch)
Bathrooms: 1
Minimum Stay: 2 nights
Daily Price: $250-$300
Weekly Price: $1,750-$2,100
Check In: 3:00 p.m.
Check Out: 10:00 a.m.
Basics
Heating
Air Conditioning
Shower
Essentials
Amenities
Water Front
Grill
Indoor Fireplace
Other
Wheelchair Accessible
First Aid Kit
Carbon Monoxide Detector
Smoke Detector
Fire Extinguisher
All Year
Hiking
Wildlife Watching
Fishing
Fine Dining
Spring/Summer
Birding
Rock Climbing
Biking
Mountain Biking
Golfing
Swimming
Canoeing
Kayaking
Fall/Winter
Autumn Color Change
Apple Picking
Snowshoeing
Cross Country Skiing
American Institute of Architects (AIA), Distinguished Building Award, 1994
National Trust for Historic Preservation, WI Chapter, 1991
Wisconsin Association of Historic Preservation Commissions